Business cards have always been the epitome of professionalism and brand image for many enterprises – big and small. The fact that a well-designed, suave business card can work wonders for your business – both from the perspective of consumers as well as business associates speaks volumes about the necessity and importance of business cards in general.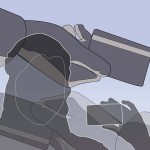 However, sticking to only the conventional designs of business cards is not really a wise idea. In a continually evolving and changing world, innovative designs and shapes are what attract the limelight as far as business cards are concerned. But again, experimenting without knowing the intricate details of business card designs is like attempting hara-kiri. Only a professional printing agency can decide which design will work best for you and which will actually drive away potential clients.
PrintPapa, one of the premier printing agencies, have come up with an innovative collection of new-age business card designs that are sure to turn heads your way! Sleek, stylish and neat, these business card designs will surely help your enterprise stand out distinctly from the horde of other similar business cards used by the industry people.
All these cards can be ordered
as low as 50 cards to 10000 cards
Choice of 2 Paper – 12 Pt with UV Gloss and 110lb Matt Cover
With or Without Corner Rounding
Graphics Design Services
Choice of 3 Turnaround.
Here's a quick low-down on the 7 new business card types available at PrintPapa:
1. Full Color Business Cards (Standard 3.5×2) – These full color business cards are the standard size cards, designed keeping in mind the visual appeal and marketing impact that a colorful and compact business card can have on potential clients. Couple that with low costs and fast turnaround times and you have a winning formula at hand!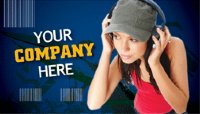 2. Slick Business Card (3.5×1.5) – These 3.5×1.5 cards have been designed to catch attention immediately with their slick design and neat presentation style that is bound to hook target customers.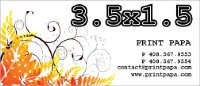 3. Tiny Business Card (3.5×1) – If you had been looking for business cards that you could carry in bulk without having to strain your pockets, the tiny business cards from PrintPapa are here. Only about 3.5×1 in size, you can use them effectively, especially, at personal meetings and lunches. The tiny business cards do not interrupt or invade the privacy or calm of the clients' mind, and are effective in complementing your marketing campaign.

4. Square Business Card (Small 2×2/Medium 2.5×2.5) – Square business cards are the ideal designs (small being 2×2 in size while the medium is of a 2.5×2.5 in size) for a business card. They present a completely corporate image while still standing out of the ordinary due to their distinct design and neat print.
5. Square Business Card (Large 3×3) – The large square business cards (3×3) present the same benefits that the other modes of business cards do, but in a bigger and better way!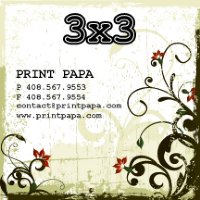 6. Fold Over (or Tent) Business Cards – (3.5×4=>3.5×2) Fold over business cards are a great way to market yourself without actually giving away your card. You can use it on the lunch table, in a meeting or in a conference as a label marque and have your potential clients interested, before finally letting them in on your actual business details! The 4 sides on the business card also act as extra information loaders – a sure-fire advantage over conventional business cards.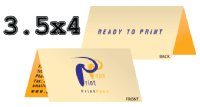 7. Fancy Business Cards – (5×2 => 3.5×2) A novel innovation by PrintPapa, this 5×2 card is  something that you had always hoped for to represent your business in meetings and seminars. Using card stock with a flap on the outer side, you can have both information as well as the logo/picture of your enterprise – helping you to market yourself better.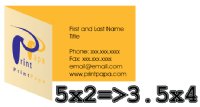 With these ingenious business card designs, you can now look forward to improved conversions (both financially as well as strategically) from your target customers and business associates.