PrintPapa recently attained the G7 Certification from IDEAlliance and is now a certified G7 Master Printer, making it one of only 5 printers in the Bay Area and about 220 nationwide to achieve this goal. This program certifies that PrintPapa has been trained to implement the new G7 Proof-to-Print process and recognizes that PrintPapa uses the most modern technology and techniques as well as process controls and standards required to consistently produce high-quality commercial printing.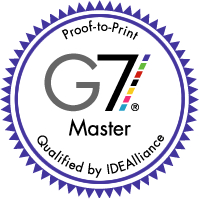 "The G7 process will provide our clients with 100 percent verifiable accuracy of color reproduction throughout the entire workflow, from digital image to final printed press sheet. Achieving this certification is a major accomplishment, and PrintPapa is proud to be part of this elite group," says Shawn Nag, Vice President & CTO of PrintPapa and one of the key people who was a driving force in securing the G7 certification.
Shawn says, "Being a G7 Master Printer means that PrintPapa has invested the time and money to calibrate our equipment and to train our people on consistently providing the highest quality on all our printed products."
Paul Nag, company president, said, "Customers benefit because they're getting the very best color management available in the industry today. Printers who are G7 certified have to prove they can match proof, plates and press sheets—so the customers get a product that has been run with much tighter process controls than those simply depending upon a press operator's eye for color consistency."
PrintPapa is one of the Bay Area's premier provider of printing services that strives to provide customers with high quality printing and other supportive services. PrintPapa offers the ability to design, print and mail—all under one roof.  
"We help our clients build their business by bringing customers to their door," Paul said. "The G7 certification is just another tool that ensures that we provide our customers with a top-notch product at no additional cost and also reinforces our commitment to maintaining the highest level of quality across our product line."