An event cannot be a success unless it is promoted well. Posters are one of the best and the cheapest ways to promote an event. The biggest advantage of promoting events through posters and banners lies in the fact that they speak to the audience on the move. All other forms of media such as brochures and flyers appeal to the stationary audience. 11X17 Poster is the most widely used promotional poster but these days many people use Hi Gloss Posters for short run printing. Some things should be kept in mind while promoting an event through posters: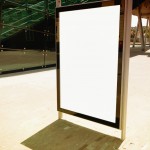 Know your Audience – Most of the events are aimed at targeting a certain group of audience. It is very important to know whom the poster intends to target. This knowledge will help in poster design as it will be designed according to the audience. In case you are targeting the old age group you must have a formal looking poster where as in case of youngsters it can be more playful.
Target your Audience – A poster's aim is to create awareness about the event among the target audience. Maximum eyeballs don't always mean maximum promotion especially when you are promoting a niche event. In case you want to target the youth placing the posters in educational institutions, coffee shops, beauty parlors and gymnasiums is a good idea.
Do it in Style – A well designed poster is a must to promote any event. Posters are usually viewed from a distance and thus it is important to grab the attention of the audience instantly. A poster should have a lot of bright colors as they grab attention faster when compared to the darker shades. They should be printed in full color from a professional printing agency.
Place Perfectly – Placement of a poster should be perfect. The whole idea of promotion is lost if a poster fails to grab attention. A poster should not be placed too high unlike a banner and should fall in the eye line. Avoid placing a posters in a poorly lit area.
Multiplicity is Best – The best way to promote an event is to have multiple posters with variations in color design and tag lines. This tends to create more hype around the event than having the same monotonous poster all over the town.
PrintPapa is a one stop solution for all the printing and design needs. It has a large list of satisfied clientèle for printing and designing books, business cards, letterheads,  brochures, catalogs among others.