Business cards are one of the best tools when it comes to promoting a product or a service. Although booklets, brochures and posters have been used for many years business cards fit into the bill more than any of them. The fact that a business card looks more official than posters and brochures it appeals more to the receiver. There are many benefits of choosing business cards and some of them are as follows: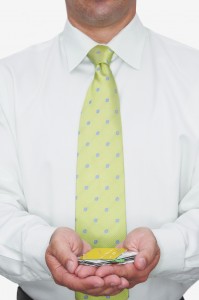 Small And Handy: A businesses card is very small compared and this acts as an advantage as the receiver can keep them in his or her wallet without any problem. There are many people who have binders or containers for keeping them. This way your brand is promoted not only to the person you give the card but others around him or her.
Specific Targeting: Business cards are one of the best methods to target your audience. Unlike posters which are put on the wall and brochures which are distributed, business cards are only handed over to the target audience. This makes them much more effective than other mediums of promotion.
Cost Effective: Being cheap business cards fit the bill for every organization be it big or small. The modern printing techniques allow these cards to be printed in short run thus giving you more flexibility while printing. This  allows you to print as much as you need and reduces the chances of wastage.
Branding: There is perhaps no better tool for you to brand your business than a business card. You should highlight the name and logo of your organization in the business card. This will register them in a receiver's mind. It is a common fact that greater the brand awareness about your products and services, more are the chances of doing well in the market.
Retention: Posters and catalogs are printed for a specific product or service and has a very short life span. Business cards are forever unless you change your brand name, contact details or address. They will promote your business far more than you can ever imagine.
A good business card needs to be printed with a good printer and this is where a professional printer like Print Papa comes in handy. They are experts is printing of domestics as well as corporate documents such as books, calenders, labels & stickers, newsletters and rack cards. They are equipped with the latest technology in printing and have built a huge list of satisfied customers due to their quality deliver on time.