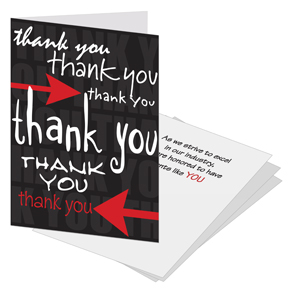 Nothing says "thank you" like an actual card that says…well Thank You. Everyone enjoys receiving Greeting Cards, but they are even more unexpected and appreciated when they come from their local Print Shop, Cable Company, Handy Man or restaurant. Show your gratitude for their business and patronage by taking the time to thank them creatively.
The best thing about a Folded or Flat Greeting Card is the versatility.  You can send one just because, for a Grand Opening, for your big sale or as a coupon. This can be done seasonally. Greeting cards are typically used for Holidays, so why not follow the themes. Christmas Cards during Christmas and so forth.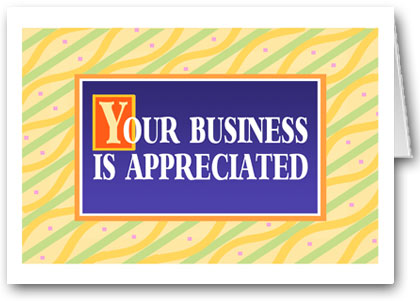 There are really an unlimited number of uses for a Greeting Card when it comes to marketing. It really depends on what message you are trying to convey and how personal you'd like that message to be.
You can even go the route of sending different cards for different stages of business. Here are a few examples of reasons to send cards to custmers:
Enhance your current business relationships
Attract new customers
Show appreciation to supportive clients
Remind old clients that you're still around
Thank a new customer for their business and let them know you are looking forward to more in the future