If you are thinking of reaching out to the wider audience instantly, it is necessary that you think of the most effective tools that can immediately appeal to the target audience. For that, we at PrintPapa, suggest you go for flyer printing. Now, when it comes to promoting your products for the local audience, you need to keep in mind that there are many competitors already who are also working hard to get the visibility as much as you want. So, it is better that you think of doing something different so that your flyers stand out from the crowd. If you are wondering what you can do, we, the professionals from PrintPapa are giving you some expert tips. Take a look at the following points to know more.
Solve a Problem
If you are wondering how you will make the consumers understand that your service is relevant to them, then it is necessary that you make them understand how you can solve a problem for them. When a potential consumer is looking for a related service, he or she is willing to know how your company can help them out. Bank on that. Instead of being cryptic, tell them directly how you will solve their issue. Keep this point in mind while going for flyer printing for your brand.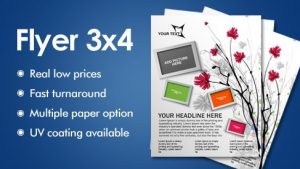 Get to the Point
You might feel really tempted to give away a lot of information to the consumers, alright. But flyers are not ideal for that. Instead of cluttering with too many talks, get to the point straightaway. This way, your flyers will look clean and precise while you will be delivering the message of your brands to them loud and clear. Instruct the online printing services you are hiring accordingly.
CTA on Flyers
Your potential customers are waiting for a direction. So, when you are thinking of reaching out to them, make sure that they are getting the right direction from your end. Add a proper Call-to-Action in the flyer by adding your contact details and a clear direction for what the consumer should do. . Instruct the service of flyer printing online accordingly.
So, now as you know about how to make your flyers stand out from the crowd, what are you waiting for? Find out reliable online printing services or come to us at PrintPapa. We offer affordable custom printing at fast turnaround time. For more information, call at 408-567-9553 or visit www.printpapa.com.