When it comes to marketing your brand, it is necessary that you think of outdoor advertisement to boost the endeavor. And for that, outdoor banners can be extremely helpful. Attractive, cost-effective and extremely visible, outdoor banners are known for helping brands through ages. So, when you are thinking of investing in print media for promotion, undoubtedly go for outdoor banners.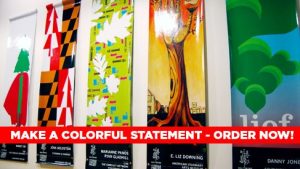 Now, when you are going for banner printing for the first time, it is obvious that you will be thinking of a lot of things to get it right. Take a look at the following tips that we, PrintPapa, offer you for that.
Get Edges Reinforced
When you are placing outdoor banners somewhere without a solid surface to support it from behind, it is a better idea to get the edges hemmed or reinforced. This will make the banner quite rigid and durable so that it can withstand the extreme weather element.
Wind Slits
It is obvious when you are going for banner printing online; you surely want it to last for a long time. And that is why having wind slits in the middle of the banner is necessary to let the air pass through so that it prevents pressure on grommets holes.
PMS Color and Pleasing Color
Often we, at our online printing store, hear our clients ask for PMS colors to be printed for banners. We can do it with CMYK process, yet you must be flexible about the color that you are looking for. In fact, opt for pleasing color more so that your outdoor banner remains visible from a distance without many compromises with the color or the resolution.
Choose the Right Ink
Make sure you are choosing the right ink while talking to banner printing services. For example, we use ECO-SOL MAX INK as it ensured clear printing and maximum readability even from a distance. We also offer a huge selection of colors to choose from too.
So, now as you know about these tips, don't waste time anymore. Find a reputed service for online printing California or come to us. We are a BBB accredited company and offer 100% client satisfaction. Call us now at 408-567-9553 or visit http://www.printpapa.com for more details.