Are you a budding writer, planning for fun and adorable booklets for kids? If yes, then you are probably looking for a reputed online printing store that will understand your needs and make the printing endeavor successful so that you can publish the cute and fun booklets that will not only easily grab the attention of the kids but will also make the storytelling an interesting and creative art for you.
We, at PrintPapa, offer you our end-to-end booklet printing at the most affordable rate. Now, if you are wondering how our online printing services can help you, then you must take a look at the following points to know more.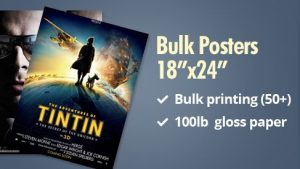 L Minimum order
When you are placing your order with us for the first time, it is obvious that you will be skeptical about our service. Undoubtedly, it is necessary that you become able to trust us enough before you place a bulk order with us. However, when you are ordering with any company, there is always the need of placing a certain quality of order with them. But, at PrintPapa, we understand your predicament and that is why we don't determine any minimum quantity of order. First, try us with a low number of booklets and once you can trust us, you can place your bulk order with us. We also provide you with the samples for proofreading before you finalize the order.
Full-color printing and easy customization
When you are printing booklets for kids, it is necessary that you make it colorful and fun to look at. Knowing this requirement, we, at PrintPapa, offer you the full-color printing options with easy customization facility. Choose the number of pages you want, give the design and leave the rest on us.
A plethora of page options
A booklet for kids should be glossy and quirky to look at. At PrintPapa, we offer a plethora of options for pages for cover as well as inner pages. So, when you are availing our booklet printing services, be rest assured, your children readers are going to find the most adorable booklets for stories.
So, now as you know why we are trusted for online printing California, what are you waiting for? Place your order with us today. Visit http://www.printpapa.com now or call at 408-567-9553 for more details.