Are you planning to inform a certain circle of customers and potential clients about your business and wondering how you will be able to create maximum impact? Well, when it is in digital media, there are certainly a plethora of options available. But when you are thinking of making it big with the promotional tools that you can hand them over with, then choosing booklets can be the right move for you.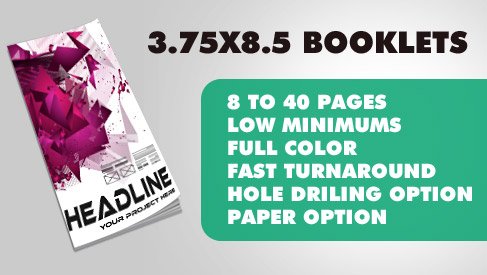 So, when you are thinking of ordering a limited number of booklet printing with us for the first time, various steps can make you feel overwhelmed. Though these are very simple steps, yet, for you and for all our customers out there, we are trying to simplify the process of ordering booklet printing services from us. Here, we will be explaining the entire process with our 5.5*8.5" Booklets and Catalog page. Take a look at the following points to know more.
Choose Cover Paper and Print Option
Once you are on the 5.5*8.5" Booklets and Catalog page, take a look on the right hand side of the page from where you will be able to  choose the page for your cover. From gloss, matte and uncoated options of different thickness, choose one and move to the next option below for the print. You can customize it by choosing color or black and white. You can also choose whether you want the inside to be printed or not with our 4/4 option.
Print and Pages for the inside
Next, you need to choose the print and the pages that will be inside. The pages will be 70-80lb thick gloss, matte or uncoated and you can get them printed in full color as well as black and white.
Uploading Artwork
The next thing that you need to do is, uploading the artwork for the cover and the design that you want to be displayed. Upload the ready to print PDF version of the artwork. Or you can upload the design and we can fix it on your behalf.
PDF Proofread
If you have one extra day for a turnaround, then you can also get the PDF for proofreading. At PrintPapa, we especially recommend this step to those who are placing their order for the first time with us. So, when you are thinking of getting a glimpse of what you will get, click on this option too.
Now, as you know how to place your online printing order for booklets, with us, what are you waiting for? Visit http://www.printpapa.com today for high quality printing services and place your order. You can call us too at 408-567-9553 now.