Investing in a new signage, even if it is a temporary one, should be done categorically and thoughtfully. At PrintPapa we often come across clients who want custom sign printing but are vague with their ideas or do not know how to design their signs properly. After so many years in the business we definitely have a clear idea about signage printing and what are the things that can easily catch your customer's attention. Today we take a look at five tricks to keep in mind while going for sign printing online so that your customer sees it immediately.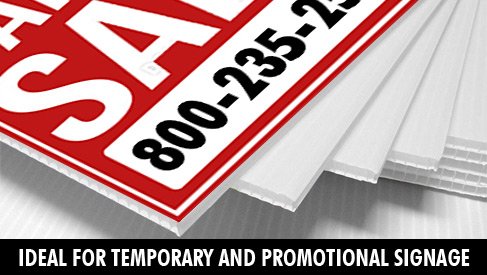 Emphasis on Logo – Whether you are redesigning your logo or creating a new one, it should be attractive enough to catch everyone's attention. It is also important to strategically place the logo so that the brand association remains for long.
Right Placement of A New Signage – As important it is to have an attractively designed sign for your store's frontage, it is equally important to rightly place it. You cannot place it where it is hardly seen.
Adhering to Design Aesthetics – It is important that your design speaks volumes about your brand and everything you want to convey. You must use contrasting colors so that the legible fonts which are evenly spaced can be easily read.
Properly Mounting the Sign – No matter how well designed your sign is, if it isn't neatly mounted on your window or door, all your efforts can go wasted. It is important that every sign is professionally mounted.
Printed on Quality Materials – Depending on the longevity of the sign you must care to print only on quality materials. If you want the sign to stay for a long time you must print it on very good quality material whereas you may use a lower quality material if the signage is only for a temporary purpose.
If you are looking for high quality printing services you do not need to look anywhere else. Our wide array of services meets the requirements of all types of customers. So, visit our website at http://www.printpapa.com/ or give us a call at 408-567-9553 for more information today and you won't regret the association.