A business card is much more than your name, designation and contact details. It is a powerful marketing tool that can immediately create an impression about your business in the minds of your potential client. Naturally designing and business cards printing has to be approached creatively taking into consideration several finer points. At PrintPapa we have been in the trade of online business card printing for more than a decade and know how a small card can be turned into your most powerful marketing tool. Here's how you should create an impactful business card that makes the perfect first impression.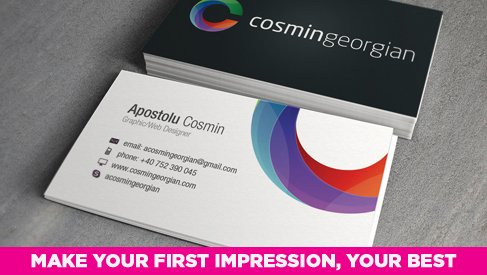 Choose The Right Color – Most business cards are printed with a white background. If you want yours to stand out, dump the standard white card (you can go for it if that portrays your business best) and go for colored business cards. Thanks to their distinctive colors they stand out in a card holder. Make sure you create the right kind of contrast between the color of the card and the ink color you choose for printing.
Card Types – There are different types of cards you can choose these days. From fold over cards to opaque plastic cards and clear plastic cards you have several options in front of your eyes. Opting for something non-regular adds to their novelty factor.
Business Card Shapes – Online printing has not only brought convenience but also offered you several creative options. Your business card need not be same dull and boring rectangular in shape. You can opt for square business cards or other shapes such as oval, triangle or other custom shapes like – leaf, heart, house, etc that represent your business in a befitting manner.
Design Elements – A typical business card has the brand name, logo, name of the person and contact details. While you can add other graphic elements make sure you don't clutter the card. The back of the card is as equally important so try using that too.
If you are looking for state-of-the-art online printing services that come coupled with value for money we at PrintPapa offer you the best deal. Our cutting-edge infrastructure along with attention to detail allows us to offer you high quality output. So, visit our website today at www.printpapa.com or call us at 408-567-9553 for further queries.