Should you choose a flyer of go for a brochure for your upcoming marketing campaign? Years into online printing business we must admit that many marketers don't know the difference between them and use these terms interchangeably. Surprisingly even some designers don't know the difference though they design both the kinds. While flyers are single sheet promotional material, flyers have folds. Flyers can be printed on a single side and brochures are printed on both the sides. Naturally both of these have distinct purposes as far as marketing is concerned. So when should you opt for flyer printing over brochures? Let's find out –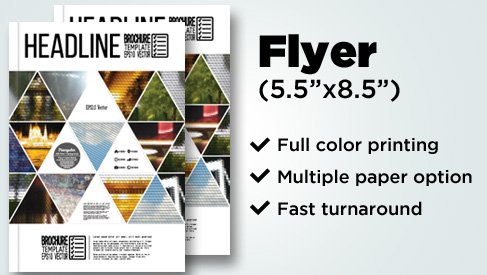 Flyers are cheap to print compared to brochures and hence if you are looking for a mass marketing campaign instead of a targeting one you should opt for them. Whether it is an event announcement or informing people about an upcoming sale or offer flyers would serve you well.
When the goal and purpose of the campaign is short-lived flyers serve as a great choice as they are printed in average quality paper and are meant for reading and throwing it away. This isn't to suggest that flyers aren't a marketing material that can be retained. In such cases you will need to print them on thicker quality paper.
Flyers are mostly used in outdoor promotional purposes where you'd hand them over to people as you come across them. Brochures on the other hand are handed indoors and mostly to potential customers or clients who have shown interest in your products or services.
If your campaign is short-lived and the information printed isn't something that people need to retain flyers would be a better choice instead of wasting your money in brochure printing. Flyer printing online is highly affordable and you can print them in thousands at one go.
If you are looking for state-of-the-art online printing services for your flyers or other marketing materials you can get in touch with us. At PrintPapa we have been in this business for more than a decade and served the niche needs of our clients and built great reputation in the industry.