Flyers are a fast, easy and affordable means of promoting your business, be it through the mail, at trade shows, by handing them out in your store or neighborhood, or posting them at events or around town.  They are compact, lightweight and portable.  Pull together your own design and print elements to create a powerful marketing tool for powerful business promotion.
We, at Printpapa, a big name in online printing California, provide you high-quality flyers to help you promote your business better. However, there are several things we suggest you keep in mind while designing your flyers.
They are as follows:
Size:
Avoid cluttering too much information in your flyer, providing only the information you want your audience to know firsthand. You can do so either by eliminating unnecessary words and images or by selecting a larger paper size. Flyers come in various sizes at our flyer printing services for you to choose from according to your own style and intent. To get a better idea about sizes, click on this link:  http://www.printpapa.com/eshop/pc/Flyers-c32.htm
Color:
Choose bright and attractive colors to get a look that will impress your audience. Select color combinations that will compliment your subject and highlight your brand image, service, or products. Do not add many colors as it may have a negative effect on the look and appearance. Flyer printing at Printpapa gives you a wide range of colors to choose from according to your own taste and intent.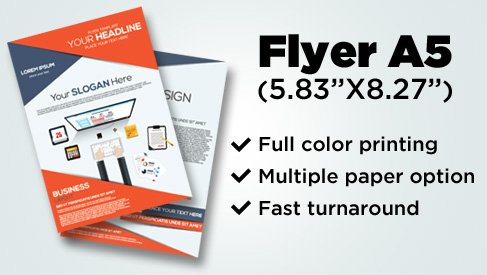 Proof:
Re-check your information in order to catch mistakes and be sure all necessary information is provided such as an address, phone number, and a link to your website. Add offers too, if applicable. When designing a flyer, it is imperative that it looks professional and that your information or message is clearly displayed.
Printpapa provides affordable Printing Services which help you maintain your budget while designing and printing your flyers. Our varied range of shapes, sizes, and colors will provide your flyer with just the exact touch of style you want which represents your business. For more details log on to www.printpapa.com or call us at 408-567-9553.