Flyer printing has always been one of the most opted means for business promotions. Due to their flexibility and affordability, flyers can lead to a high boost in your business, by reaching out to a larger audience and raising awareness and thus garnering more revenue.
We, at PrintPapa, provide high-quality flyer printing Online to people who want to increase their business sales.  Flyers can be used in a variety of ways to increase the target audience reach.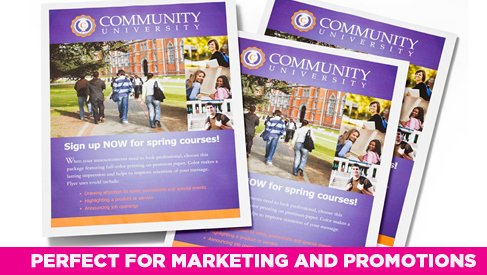 Features of Flyers Which Make Them a Powerful Marketing Tool 
Flyers let you promote your business wherever you want based on your target audience. Printed flyers can be:
– Put up at in stores, meets and events
– delivered from door to door
– distributed as newspaper supplements
– spread out in clubs and bars
PrintPapa has 4 distinct shapes of flyers; namely folded, shaped, rectangle and club card flyers. You can choose them according to your need. Visit our website to know more.
And we, at PrintPapa, also provide you with a large variety of flyer templates and guides to help you select a flyer size and shape which is apt for your business promotion in just the way you prefer.
In addition to picking your own size of flyers, you can opt for your own choice of paper-quality, style and finish including matte, gloss and uncoated.
Due to their minimal and single page design, flyers take much less time for their production than compared to brochures and booklets which have multiple pages. This also helps you save a lot of time. 
Flyers are a cost-effective means to promote your business. They are cheap to be printed, which makes them a great promotional tool for any kind and size of business. Flyer printing services sell wholesale flyers at affordable prices without compromising on quality, which makes them a worthy yet easy buy.
No matter the nature of your business, flyer printing will help you reach out to a larger audience in less time. And we, at PrintPapa, make sure that you get high-quality flyers at the right price to help you succeed in your business. To know more about our flyer printing services, visit www.printpapa.com or call us at 408-567-9553.