According to business statistics, a total of 40% of business success or failure depends upon the quality of their mailing listings. And it is only natural that new businesses and start-ups will find this upsetting for the fact that they are yet to recognize their target audience. However, there is an effective way to make sure that the intended message reaches the locally-targeted audience: EDDM postcards.
EDDM postcard marketing or every door direct mail postcard marketing lets one send postcards, regarded as one of the most powerful direct-mail marketing tools, to every single household and business within a defined geographic area. We, at PrintPapa, provide EDDM postcard printing in different sizes and print qualities. You can give us your own design via a PDF template or let us help you design it.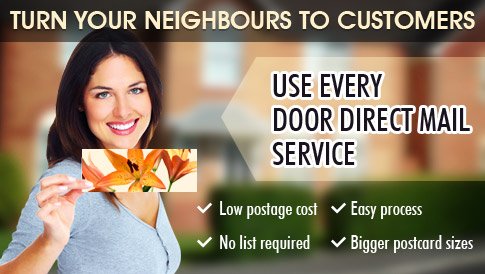 With EDDM Postcard Marketing, One Simply Has To:
Select the target mailing area by zip code or city/state
Create a special time-limited offer that customers will want to take advantage of
Design an attractive postcard and include a tracking mechanism, such as a coupon or coupon code
Print your postcard on premium paper stocks for better representation
Deliver your postcards to the Post Office – they'll handle the rest
Every door direct mail California can help locally-based start-ups and businesses reach almost all local customers at relatively low postage rates. They are a great way for startups to jump-start their businesses, and for established businesses to target local customers. Business that are based out of large cities can opt to target specified areas for their EDDM to save budget whereas those located in smaller towns can use EDDM to cover the whole of it. PrintPapa's EDDM services let your print your postcards at affordable prices and various shapes and sizes. Be it a new announcement or a display of products or services, EDDM postcards can be used in all. Another way for you to attract the audience is by including offers and coupons.
A great mailing list is critical to direct-mail postcard marketing success, but you don't have to spend countless hours building a custom mailing list when you can take advantage of every door direct mail printing at PrintPapa. To know more about our EDDM postcard printing, visit www.PrintPapa.com or call us at 408-567-9553.