As is said by Sonya Parker, "Almost everyone will make a good first impression, but only a few will make a good lasting impression." Business cards speak volumes about your personality and the recipient almost immediately develops a perspective about you. We at PrintPapa not only deal with online business cards printing, but also offer you a variety of styles and sizes to choose from.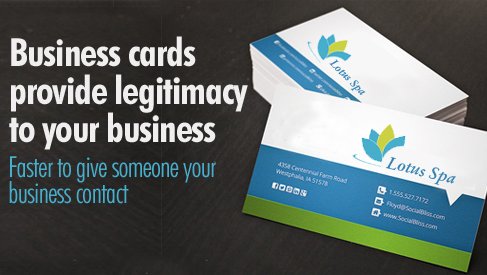 Standard Business Card
These are the most commonly seen business cards which help you shape that first impression ideally. The most common size available is 3.5" X 2" and goes on to different styles like slick cards, tiny cards and European cards.
Square Business Card
It is generally accepted that uncommon sizes grab the attention sooner and create a lasting first impression. We offer the square business cards printing in the dimension of 2" X 2", 2.5" X 2.5" and 3" X 3".
Luxury Business Card
You cannot fail to create that charming first impression with our luxury business cards. These cards are triple thick 46 point which is almost as thick as a credit card with colored inserts. The basic luxury card is 3.5" X 2" and comes in the varieties of slick cards, European style cards and square cards.
Fold-over Business Card
Our fold-over business cards come in two options, one that flips open upwards and one which flips open sideways. The fold-over card that opens upwards has the laying flat size of 3.5" X 4" and folded size of 3.5" X 2". The fancy business card that opens sideways is 5" X 2" and 3.5" X 2" respectively.
Shaped Business Card
We as a business cards printing service provider offer shaped card in the form of round, cloud-shaped, diamond-shaped, flower-shaped, heart-shaped, ink-drop shaped, oblong-shaped and many more options to choose from.
Opaque Plastic Business Card
These are fully colored on plastic and are extremely durable. We provide these cards in the US standard size (3.5X2 inch) with options in square, European and slick business cards. These are water-proof, economical and hold the color for a continued period of time.
For more information on business card styles and sizes, please visit our website at www.printpapa.com or you can even call us at 408-567-9553 and get your online business cards printing done hassle-free.