While walking down a street, you must have noticed colorful flyers on walls or glass windows that tell you about a discount on your favorite product, which immediately compels you to make a move.
No matter where it is placed, be it on a glass pane of a retail store, or in a park or a café, a flyer is always able to grab hold of our attention at the very first glance. An effective promotional tool, flyers play a primary role in bringing customers to your doorstep.
However, the power of a flyer rests in its design. Obviously, nobody bothers about a flyer which has just the name of the store and two digits to show the discount, that too in black and white. So, while you are designing your flyers, make sure that they are attractive enough to grab on to the attention of the audience at the first sight.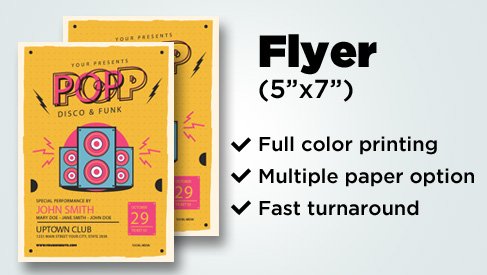 Here are 5 steps you should follow in order to have effective flyers:
Simple Look: A flyer should be attractive. But this does not mean that you have to incorporate everything you can into them. You need to keep in mind that flyers will be seen by passersby who will only give it a glance. This glance should be enough to tell them what you provide and how they can get it. Hence all that you need are a headline, a powerful CTA along with your contact details and website URL (if you have one).Opting for Flyer Printing Online from PrintPapa lets you choose from a long range of sizes according to your purpose and flyer positioning.
Big-sized Content: Your flyer should carry less content. This will naturally give you a lot of space to utilize. Use this space wisely. You may use large graphics and images to attract attention. But keep in mind not to use too many of them as the audience will not waste a single second trying to understand them.
Use bold colors: Your audience won't be looking for your flyers obviously. You have to grab their attention immediately. So, opt for bold colors. Use not more than 2 colors for your flyers, as more than 2 might overwhelm the audience. Flyer printing services by Printpapa use high-quality vibrant colors that elevate the professionalism of your flyers.
Readable Fonts: There is no use in printing a flyer if your audience cannot read its content. Thus, use a reader-friendly font like Times New Roman, Calibri, etc. Remember to keep them well-spaced and use contrasting colors for fonts and background, so that people will be able to see them from a distance.
A good way to test your flyers' efficiency is to show it to people who can provide an unbiased opinion e.g. friends and co-workers.
Keeping these 4 points in mind will definitely help you in effective flyer printing. PrintPapa provides print services with a 100% satisfaction guarantee and even monthly deals which make our relationships with our customers even more fruitful. To know more about our services, visit www.printpapa.com or call us at 408-567-9553.