A business can never prosper or flourish unless it has a good promotion. No matter how long a business has been in the market, after a point of time, it ceases to expand unless promotions are carried out.
And as far as promotions are concerned, brochures play a key role. Be it a new service or product, or an offer or discount, or a new business itself, a brochure can help you make your audience aware of it in a subtle and effective manner. Opt for brochures printing at PrintPapa (a BBB accredited business with A+ rating) to give your business a perfect promotion.
There are different kinds of designs for your custom brochure printing based on your choices.
Here are 5 effective brochure designs to enhance its looks
Photography Brochures: If you run a business that incorporates photography, you probably will know that a good quality high-resolution picture never fails to influence its beholders and certainly leads to faster Call-to-Action(s).
Also, no matter what business you have, a good quality picture adds a lot of subtlety to your business brochure. After all, everybody remembers a good picture and that too for a longer period of time. Quality Brochure Printing at PrintPapa provides high-quality finishes which make your pictures look even better.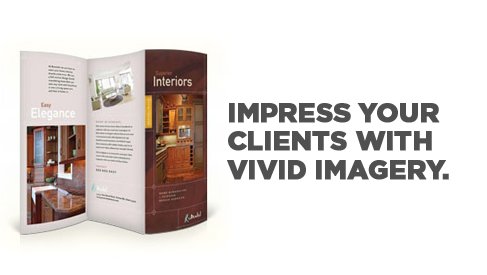 Event brochures: These brochures are used to promote events. They are basically based entirely on your imagination and there is no procedure to follow. Good design and strong content have higher chances of pulling a larger audience.
Food brochures: The brochures which businesses that deal with food items, e.g. bakery, etc. use, come under this category. These can be made effective with high-quality pictures of food items provided by the business. Providing recipes is also effective and have a positive impact on your audience.
Holiday brochures: These brochures incorporate holiday mood in them. For example, during Christmas or Thanksgiving, you can opt for Custom Brochure Printing and include special festive offers and discounts. You can even add festive giveaways like mugs, notepads, etc.
Typographic brochures: Be it any kind of business, the font of your brochure plays a vital role. Choose a user-friendly font for your content, which the readers can read without any inconvenience.
Using not more than two fonts, one for headings and another for details, for all your promotional means can give your business a unique identity and will be immediately recognizable.
Brochures printing at PrintPapa will allow you to design effective brochures at attractive affordable rates with 100% satisfaction and fast turnarounds. To know more, visit www.printpapa.com or call us at 408-567-9553.