Posters are perhaps one of the most popular means of business promotion all around the world. From movies to events to services to products to everything else, posters play a significant role in almost all business genres. And if you too are looking to promote your new business using professional posters, then PrintPapa is your one-stop destination.
Poster printing services at PrintPapa offers you with high-quality full-color posters at an affordable rate.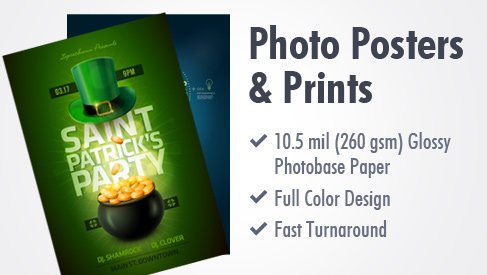 For a more knowledgeable mind, here are 2 design characteristics of a PrintPapa poster:
Multiple sizes: A well-sized poster has the ability to attract a large audience without being overwhelming. Dual-color posters also have the ability to have a long-lasting impression on the audience due to their clear message visibility. Thus, the size plays an important role as too few words in a too-large poster can appear inappropriate.
PrintPapa posters are available in a long range of sizes e.g. 11 x 17 posters, 13 x 19 posters, 18 x 24 posters, 20 x 30 posters and many more.
A perfect-sized poster is one that utilizes words such that it reflects the message in a clear manner without making the viewers struggle. On the other hand, too of empty space might make the poster appear incomplete. This can also have negative impact on the audience. For more details on poster printing, visit www.printpapa.com/eshop/pc/Posters-c36.htm
Poster boards: One of PrintPapa's custom poster printing options is poster boards that use 3mm PVC. These posters are light-weight, can take any shape and heat and chemical resistant, and scratch-resistant. These have a long range of applications e.g. exhibits, kiosks, framing, interior signage, etc.
PrintPapa poster boards are available in a Width of up to 46 inches and height of up to 94 inches. Easy installation along with the above-mentioned characteristics make poster boards the most popular PrintPapa sign product.
Additional: Dry-Erase posters have an 8-mill Matte paper with a dry-erase laminate. A dry erase poster lets you use it over and over again for different purposes. These are perfect for classroom posters, training posters, in restaurants and cafes, etc.
Online poster printing at PrintPapa comes with facilities like fast turnarounds and low minimums for orders. 100% guaranteed satisfaction makes PrintPapa one of the best printing services in California. For more info, dial 408-567-9553.