Business cards serve the most important function for any business i.e. creating a strong first impression. Naturally, the first thing that a businessman or businesswoman gives you at the first meeting is his or her business card. And if you are one of them and are looking for a great business card design that helps showcase your brand better, come to PrintPapa. PrintPapa provides high-quality business cards at affordable prices with guaranteed satisfaction.
In this blog, we shall be talking about a very important aspect of business card design. And that is color-insert business cards, also known as luxury business cards. Business cards printing at PrintPapa is done on a triple-thick 46 point uncoated paper (a little bit thicker than an ATM card). There are many sizes available including 3.5×2 inches, 2×2 inches, 2.5×2.5 inches and more. The insert has a colored layered effect that sets the brand apart.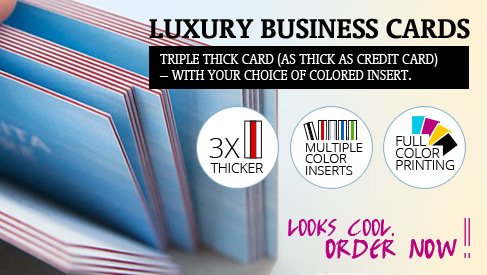 Here are 3 ways in which colored-insert business cards let your brand stand apart:
Thickness for wrinkles and tears Free Business Card: A very physical aspect, and a very natural one, is that the thickness of the card prevents any kind of wear and tear. Opting for layered edge online business cards printing takes a toll on your competitors.
Stress on brand uniqueness: Certainly, having the layered insert in your brand's color lets your business card attract attention even amidst other business cards. And certainly, colors have always had an attractive quality. PrintPapa even provides a lot of additional colors for the special order. Opt for business cards printing in California with PrintPapa and turn your business cards into the perfect image of your brand.
Brand-worthy: A continuation of the second point, giving the brand-oriented colored layers to your business cards makes them more brand-worthy. PrintPapa provides effective custom business cards printing service with layered inserts that help you showcase your brand better thus making them a great brand-worthy tool.
PrintPapa is your one-stop destination for effective business cards printing. Guaranteed satisfaction and fast turnarounds make them one of the best printing agencies in Santa Clara. For more details, log on to www.printpapa.com today.