Attending trade shows to promote your business can be an expensive venture. Most marketing departments will tell you that you need a full booth with giveaway items and raffles to make your investment worth the buy in – but that's not always the case. In fact, having the freedom to roam to the floor rather than be tethered to a booth could help you better target other vendors that you want to network with. For most trade shows, the cost of admission is far greater than the cost of renting booth space, but with proper planning, the value could be even higher.
This approach isn't right for all companies, and will vary depending on the size of the trade show and other vendors in attendance – but often works for small businesses that are focused on growing. Of course, by taking this approach, you could be at the disadvantage of not having marketing materials on hand when the perfect lead comes along. With proper planning you can carry everything you need in branded presentation folders.
Full size presentation folders have four pockets, giving you plenty of room to include several different types of printed material, with options for business card slot holders as well. This option tends to work best as it holds all standard size sheets of paper. Alternatively, we do offer mini-presentation folder printing with tri-fold options that are perfect for smaller print promotional materials.
How Much Can You Fit in a Presentation Folder?
With up to four presentation folder pockets to organize, you can fit a significant amount of marketing material in each to bring to trade shows. Business sales sheets or promotional flyers to hand out would be perfect for a B2B type conference. Attending a B2C trade show without a booth would take a different approach where you may want to fill your presentation folder with custom stickers or promotional postcards to hand out.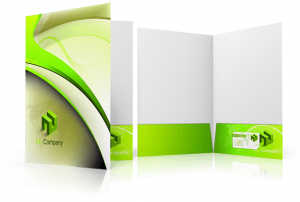 Of course, you will always want to carry your business cards with you when in attendance at a trade show. Be sure to check with event organizers to make sure that you are allowed to bring in your own presentation folders before getting to the event floor. In most cases, as long as you are respectful and strategic with your approach, most organizers will be happy to have you there – perhaps researching to rent a booth at the next one!
Networking at it's Finest
One of the best parts about trade shows is that everyone is there to network with each other. A smile, professional demeanor and custom printed promo material can go a long way for the cost of admission. Don't limit yourself to our suggested items above either – we are a one stop shop for trade show printing needs and can help you from design to delivery!