Want to give your company the perfect "shape?" Opt for creative brochures. Let your customers and clients know more about your company at the first-go with creative brochures. PrintPapa provides effective brochures in a variety of styles and at very affordable prices.
However, opting for brochures printing is not enough. Keeping in mind how to go about designing it, is also important. PrintPapa lets you customize your brochures in a way that reflects your brand's personality at its best.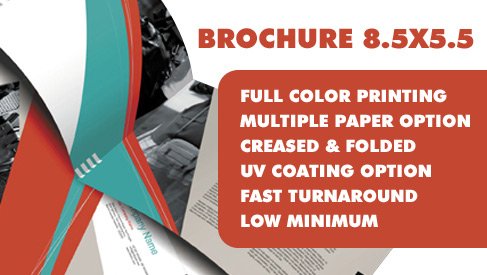 Here are 3 ways in which you can add to your brochures:
Folds: Choose a fold according to the amount of information you want to incorporate in your brochure. A good way to do this is by creating a soft copy of the design. PrintPapa also provides guideline templates and even animations to give you a better idea about the folds.
Online brochure printing at PrintPapa allows you to have different kinds of folds e.g. double-parallel fold, gate-fold, tri-fold, z-fold, etc.
Paper stock: The kind of paper stock you choose for your brochure is also important. You can decide to go for gloss to give your brochure a shining look. Or you can also opt for a matte finish to give your brochure a more elegant texture. The matte finish also provides you with a writeable surface.
Custom brochure printing at PrintPapa has two options of card stock, the 80 lb which is a thinner one and 100 lb which is the thicker one.
Design: PrintPapa provides you with 3 options in this case. You can either upload your own print-ready PDF or upload an artwork for them to fix if necessary or you can let them design it on their own after which you can check it out for yourself. Online brochure printing services let you choose from a large variety of fonts and colors. Choose not more than two colors that, in all probability, stand for your brand and a font that is reader-friendly. Keep in mind the spacing as too much clutter among words does not appear good at all.
Opting for brochure printing from PrintPapa will give your brand a perfect promotion. However, keeping these 3 points in mind will help you give your brochures a better shape and quality at affordable prices. For more details about brochures printing, visit www.PrintPapa.com or just give us a call at 408-567-9553.