Whatever be the type of business everyone is looking to print promotional notepads. But the question is what is the reason behind this craze? Notepads are one thing that is needed by all sorts of professionals in their normal working schedule. They make planning and work allocation a simplified act. It is the dream of every businessman that their promotional material be in front of the eyes of the recipients. This purpose can be very effectively met with the help of custom notepad printing. Printing services are one of the vital factors that determines whether a custom notepad catches the niche audience or not. There are a huge number of online printing service providers and it often becomes difficult to make a decision. So why not read on and learn the tips and tricks about the things that are important for a custom notepad: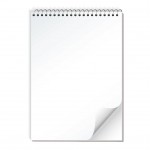 Logo: The main purpose behind printing and distributing notepads is to enhance the brand popularity of business. So it is vital that the printing agency provides full color logo printing option. Logo is the most vital part and this should appear prominently in the notepad. Some companies use it on the cover while some others get the logo and company name printed in the inner pages of the notepads.
Sizes: It is important to choose the sizes before printing a notepad. There are various types of notepads available with the printing agencies. The small notepads are usually used for taking instant notes and can be carried in the pockets. While the medium sized ones are used widely in offices and other work places to make long lists. Large sized notepads are usually used in work places where there is a lot of writing needed.
Artwork: Use statements that instantly attract the users and make them thinks about the company and its services. Pictures should be related to your niche business and if possible to the company itself. Artwork can be made more lively if the printing service provider uses updated picture printing techniques.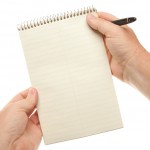 It is very important to choose only the reputed printing agencies in the printing industry while going for custom notepad printing. PrintPapa is one such reputed company with years of experience in notepads printing and designs. We offer 3 different sizes of notepads as listed below:
Small Size (Qtr. Page) – 4.25″ x 5.5″.
Medium Size (Half Page) –  5.5″ x 8.5″
Large Size (Letter Size) – 8.5″ x 11″.
All the above notepads are 50 Pages/Pad with a chip board backing, and printed in full color. And you can order as low as 10 pads.