Losing your pet can be one of the most painful experiences in your life. The grief and the pain however should not override your duty to search for your pet. The most effective way to look for your pet is through missing pet poster. Here are a few things that you should keep in mind while designing an effective pet poster: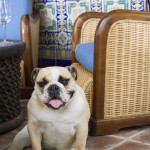 Picture Is Key: An image of your pet is the most important thing in your pet poster. Most people passing by won't have the time to read the text in poster. Make sure the picture is medium shot of your pet as it is easiest to identify pets in such pictures. Long shots and close ups wont help you with your purpose. The image should be high resolution and in full focus.
Print Large Text: Print the name of your pet in large font size. Mention the words 'missing' or 'lost' at the top of the poster as it will communicate message immediately. It should have a short description of any particular identification of your pet such as white Labrador, blue colored etc. Mention the name of your pet on the poster as pets generally respond well to their names when called.
Contact Address: It is important for you to mention your contact address in the poster. Mention your complete address with landmark. Include your email address and contact number in the poster. In case someone finds your pet he/she should immediately be able to contact you. In case you want to be contacted at some particular time mention that too.
Promise A Reward: There won't be a happier occasion in life if someone brings back your pet to you. Promise a handsome award to the person who brings back your pet to you. It can be in the form of cash or a gift item. The word REWARD should be highlighted in the poster.
Do It In Color: The poster should immediately attract attention of the people seeing it. Make sure that the poster is printed in full color and has good contrast between the background and the text for more visibility.
Your missing pet poster has top be printed well and you will need the services of a good printing services provider for this. PrintPapa will be a good choice for you as they are a well established printer with modern printing equipment. They have expertise in printing greeting cards, labels, notepads, rack cards, letterheads, catalogs and NCR forms among others. PrintPapa has regularly satisfied its clients delivering high quality work on time.