In this era of Internet many people are ignoring some of the grass root advertising techniques. Now when the Internet is clogged with advertisement of every kind many are resorting to these grass root medium such as flyers, doorhangers and brochures. For most businesses doorhanger marketing offers enormous value and untold potential but very few fully utilize it.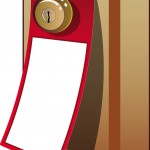 Local businesses that play in a confined territory stand to gain maximum mileage advertising through doorhangers. Add to it the enormous cost advantage that a doorhanger provides it just sounds like an ideal medium of advertisement. Two of the most common sizes of doorhangers are the 3.5×8.5 doorhanger and 4×11 doorhanger. But a few things need to be kept in mind while advertising your business through doorhangers:
You need to know your target audience well before setting out advertising your business. You should be aware where to find such people and send your marketing team to such places to distribute your doorhangers.
You will need a well designed doorhanger to promote your business. Play with colors and text which grab the attention of the viewer at one go. A doorhanger should be able to attract the attention of a person from a distance.
Target hotels, restaurants, coffee shops and other areas of commercial interest as these places attract a lot of footfalls.
It should carry your message in a crisp manner. One look at it should convey the entire message. People are starved of time in today's world and won't have the time to go through a complete sales pitch.
Use high quality paper for printing the doorhangers. Your potential customers will equate the quality of your doorhanger with the quality of your company's products or services.
Have your complete address and contact number in your doorhanger. Many people make this critical error of not including this. Try bundling a business card into a doorhanger. A potential client might want to contact you regarding your product or service.
Try tying-up with a business firm which sends a lot of communication mails to their customers. Insert your doorhanger in the mail and it will serve as a good means of promotion.
PrintPapa is one stop solution for all the printing and designing needs. This printing agency has been catering to all kinds of printing needs of it's customers and has built expertise over printing and designing books, business cards, catalogs and notepads among others.