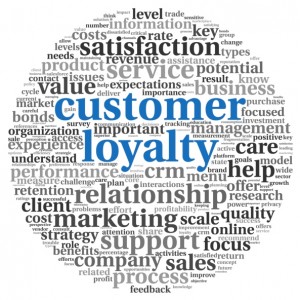 It's far more cost-effective to retain existing customers than it is to attract new ones. Here are a few tips to increase customer retention rates by improving your customer loyalty:
Mail personalized thank you cards showing your appreciation for recent purchases or interest in your products and services.
Create a customer loyalty program that offers special promotions and incentives for return customers, such as birthday discounts, a reward punch card, free shipping, monthly discounts, or free upgrades.
Give customers a great experience with your brand. Offer a quality product and stand behind it.
Encourage open communication with customers by requesting feedback and suggestions. Offer options such as e-mail, online surveys, a toll-free number, and discussion forums.
Humanize your brand and create a personal connection with your customers by interacting in social media. Encourage customers to respond to your blog posts, attend trade shows, provide open houses, offer hands-on training sessions, and more.
Treat your customers like insiders. Include them in decisions, ask for feedback, and assure them their opinions are valued.
Consistently under-promise and over-deliver to ensure customer satisfaction.
Surprise your customers with something they don't expect, such as a coupon for "$10 off your next $10 purchase" just because.
Remember the golden rule. Think about the type of treatment you would like to receive as a customer.