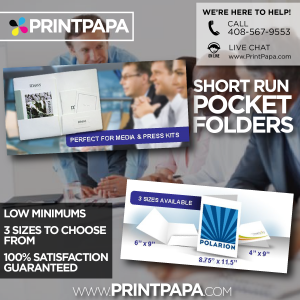 Presentation Folders are great for organizing your marketing materials like datasheets, brochures, product samples and handing them to your client with your business card attached. Looks very nice and make a great first impression. Also they will think twice before dropping it in the garbage. Use it for your next Trade show, Seminar or Sales Presentation.
Normally these kind of folders are printed on a large format offset press, then die cut & glued to get the final product. So there is a big setup charge, and hence getting smaller quantities is not cost effective and sometimes will not make sense. So we came up with our Short Run Folders. You can order as low as 5 and we can turn them around fast. We offer 1 day turnaround for up to 50 folders for a small rush charge.
The only restriction is you cannot print anything on the pockets.