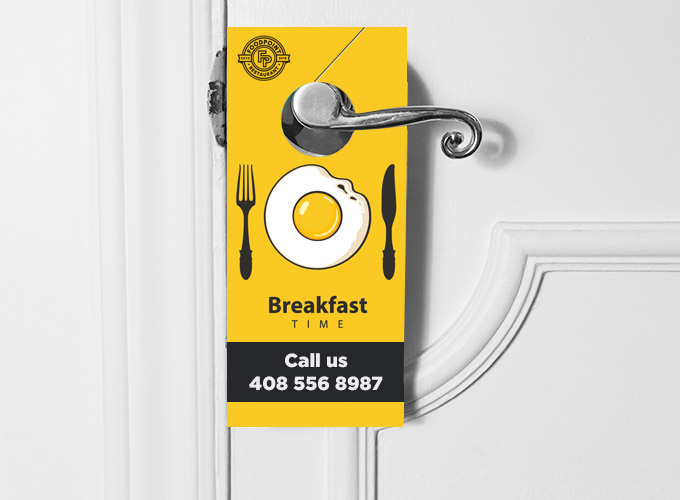 If you are looking for an affordable yet effective manner of marketing your business, you should consider opting for the good old door hanger campaigns. You do not need to set aside a hefty budget for this marketing strategy and still make the same, if not a more profound impact, on your target audience.
To make your marketing campaign unique and different from others, we, at PrintPapa, offer you the exclusive door hangers. When you leave these eye-catching door hangers on people's home doorknobs, which will be hard to miss, you will be leaving an impression on them. Make this part of your routine and do it once every week or every month, that way you stay in front of them all the time. That way when they need your service you are right there.
Our team at PrintPapa is dedicated to make custom door hangers with the exact specifications you want for your business to grow. You can personalize this marketing tool according to the services you provide. From displaying discount offers, home-delivery options, package deals to advertising growing properties for prospective clients, medical assistance or children's daycare facilities, you name it and it will be printed on either paper or plastic door hangers.
Why use door hangers for marketing?
There are three simple reasons for choosing door hangers for your business marketing plan:
They are affordable, cost-effective and extremely durable.
They are difficult to ignore and have one of the highest chances of being noticed by your target audience.
You can custom print it and display as much information as you want to augment the interest of your audience.
How to make the most of door hanger marketing?
The most crucial trick when dealing with door hangers is to make use of the limited space it offers. You need to work with a team that is committed to helping you thoroughly in regards to the graphic designing, the size and other design features. It is easy to highlight the call-to-action section on the door hanger. You can opt for UV coating to add the glossy finish on the matte plastic paper and make it appealing visually.
You can also go with plastic door hanger which is tear and water proof which are great if you need them to be reused multiple times. For e.g. these are great for hotel's "Do Not Disturb" or Breakfast Menus, etc.