If you still lived in the early days of printing then this question would have never crossed your mind because two color offset printing was the only option available in those times. With the growth of digital printing technology there are new options available now for commercial printing. Four color digital printing is a viable option for all the marketers in today's times. But the availability of the two color and four color printing process has left many people confused. This is the reason, understanding the advantages and disadvantages of both these color printing processes is important.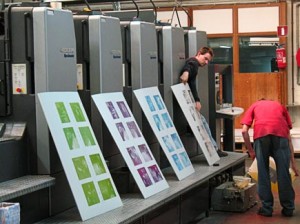 Two color offset printing is one of the most common processes for high volume commercial printing. In this process the image to be inserted is placed on a plate and then transferred from the plate to a rubber blanket, which again is moved to the printing surface. Two color printing is mainly based on the use of oil and water. Ink rollers supply the required ink to the images while the non printed area attracts a film of water. The film of water keeps the non printing area free of any ink. In four color digital printing process the mechanical steps such as manually stripping the pieces to create a plate and making films for color proofs are not needed.
Now, let us take a look into the advantages of both these processes to make a comparative study:
Four Color Digital Printing Advantages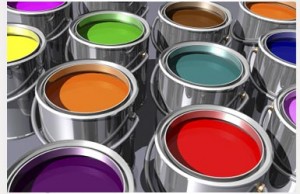 It provides a shorter turnaround as it does not require much manual work.
All the prints have same color. There are lesser wastes, accurate counts and the color remains constant as there is no need to balance the ink and water during digital printing.
It costs lower for high volume of printing. Though the per unit cost of each piece is higher than in offset printing, but when you consider the set up costs, you will find that four color printing costs much less nowadays as the there is no setup cost in digital printing.
There are customization options in four color printing without slowing down the print speed. The information stored in the databases can be used to provide unique copies every time, such as ones for the personalized letters used for marketing. This process is called Variable Data Printing.
Two Color Offset Printing Advantages
It will work on many types of surfaces other than paper such as cloth, metal, wood, plastic, leather, etc.
If you order for a large quantity of prints then per unit cost goes down.
Modern two color or 4 color offset presses use computer to plate technology which assures higher quality.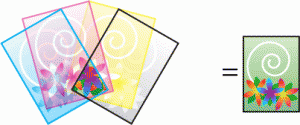 Are you still not able to make up your mind? Then use the below given checklist.
Quantity: If you are ordering for a large number of prints then the cost per unit would be considerably less for two color offset printing, while if you are looking for short run printing then four color digital printing is your definite choice.
Printing Medium: If you need unusual printing surface, special type of paper, unique size, etc. then offset printing is a good choice. Though the options are gradually increasing with four color printing too.
Color: If you require only black and white prints then the two color process is a choice you can make. While if you want many colors to be used in your prints then the four color or digital printing is your cup of tea.
Turnaround: Four color printing is totally automated and controlled by the computers so it will give you faster turnaround. So if you have a time constraint, four color printing should be your choice.
Proof Checking: Four color digital prints offer better proofs as they produce a sample of how the actual printed piece would look like.
So make the choices based on your requirements. You may also ask for suggestions from the experienced printing service providers such as PrintPapa. They have expertise in offering high quality printing for various promotional materials such as rack cards, greeting cards, posters, short run books, NCR forms, etc.