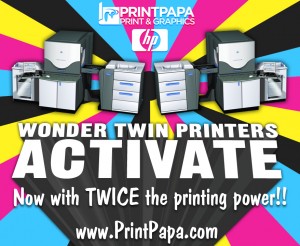 HP recently released a machine so amazing, it has changed the face and perception of Digital Printing world wide. This machine is known as the "HP Indigo 3550". Printpapa.com, staying on the cutting edge as we do, purchased one of these Digital Monsters and have been churning out high quality printing to the world ever since. The demand for this level of quality has become so great as of late, Papa was forced to buy a second Indigo making 2010 the year of "The Wonder Twins".
A few of the features include:
Production rates of 68 ppm color and 136 ppm in B&W
Adjustment-free, minimum-touch paper handling (limits smudging)
Support for a wide substrate range, including specialty media and the ability to perfect up-to 16 pt cardstock or 130 lb cover.
Up to 5-color printing
True spot and brand color capabilities
State-of-the-art color management, with HP
Professional PANTONE® emulation and ICC profiles
Superior fine line work with HP Adaptive
Half-toning
All of the features listed above, multiplied by 2! That coupled with recent addition of the new Roland XJ 740 and all of it's large format glory, makes PrintPapa a printing powerhouse on the rise.