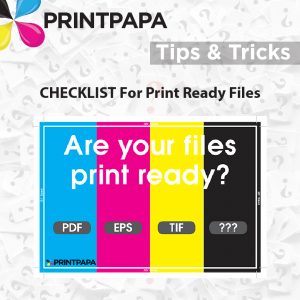 Here is a quick checklist to help make sure your artwork is print ready and avoid any delays:
#1 – COLOR SPACE
        Be sure the file is setup as CMYK instead of RGB. If you're not sure, you can add a PDF proof and we will throw in the conversion free!
#2 – CORRECT BLEEDS
        Add a quarter inch bleed to your height and width (1/8″ to all sides). Please be sure to check our template if you have borders in your artwork. If not setup properly, the borders may look like different thicknesses.
#3 – HI – RES IMAGES
        Full size images should be no less than 150 DPI to get good quality but 300 DPI is perfect for maximum print quality. If you're providing a file at half the size, please make sure to double the DPI
#4 – TEMPLATES
        Its VERY important to use our templates to confirm proper placement and sizing. Design work should not alter the template in any way.
#5 – CORRECT SAVE OPTIONS
        When saving as PDF, be sure that you DO NOT DOWN SAMPLE in the options or you will lose resolution on the print.
#6 – FILES BUILT TO SIZE
        Build files for final product size, problems emerge when trying to scale small files to larger sizes.
#7 – WHITE TEXT
        Do NOT set to overprint, must have white ink knocked out of the bottom layers.
#8 – BLACK TEXT
        Should be 100% black, NOT a mix of CMYK, especially when working with small text. This helps avoid registration issues.
#9 – FOLDING JOBS
        If your job has folding, PLEASE use our template to confirm the panels are sized correctly and folds line up properly.