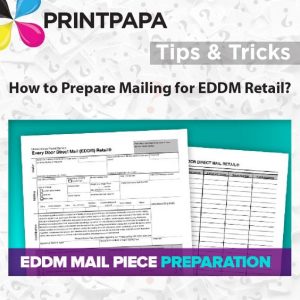 Every Door Direct Mail – Retail® service from USPS® is an efficient and affordable way to reach every customer in your neighborhood. Using the USPS EDDM online tool helps you locate your target neighborhoods and shows you how many customers you can reach.
To get started…
Step 1: Log in or Register
If you already use Every Door Direct Mail and you have a USPS business account, simply enter your user ID and Password.
If you are a first-time user, you'll be prompted to create a new USPS.com® or Business Gateway account to get started.
Step 2: Define Who You Want to Reach
The online tool helps you choose your targeted mailing routes by address, city, state, ZIP Code™, or up to a 5-mile radius around your business. You can even use street names or intersections as your target area. Next, you will be prompted to generate and print out the appropriate documentation and facing slips to take with your mailing to the Post Office™. The tool identifies the number of active residential and business addresses in your target areas to estimate postage costs based upon print quantities. You'll have an opportunity to pay online with a credit card or you can always pay in person at your local Post Office with cash, check, credit/debit card or meter strip.
Step 3: Design/Print Your Mail pieces
Once you've identified where your mailing is going, you can place the print order with us. Visit the EDDM Postcard section on our website and choose the size you want to send. You can then download the guideline template and create your artwork. Be sure to check the approved specifications for Every Door Direct Mail, including sizes, address formats, and the approved Every Door Direct Mail – Retail Indicia (required on each mail piece).
Step 4: Preparing The Mailing
We provide an option to prepare the mailing for you for an additional charge. If you select this option we will prepare the mailing and ship it directly to you or you can pick up. You will then deliver & pay for postage to the Post Office listed on the mailing report you created in Step 2.
If you select the option "Customer to Prepare the Mail" then we will just print the postcards and ship it you. You will have to prepare the mailing and then deliver/pay for postage at the post office listed on the mailing report.
Preparing the mailing is very simple process all you have to do is simply take the printed postcards in bundles of 100 pieces (with facing slips attached and the mailing statement you created using our online tool) to your local Post Office. If you did not make your payment online, you will need to pay at the Post Office with cash, credit/debit card, meter strip, or check.
Some Important Links:
Quick Reference Guide PDF
Retail Indicia  JPG
Retail Indicia Usage Guidelines TXT
PPS Form: Download the PS Form 3587, Every Door Direct Mail – Retail PDF
USPS EDDM Website