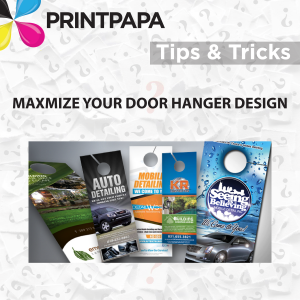 Printed door hangers can be used for assorted purposes such as advertisements, do not disturb signs, contact us pages, double sided messages and many more. These finely printed door hangers can also be used as a marketing tool for your business.
You can be assured that marketing your products or your services through door hanger can be very viable. This method of advertising is much more cost effective than bulk mailing or brochure and booklet distribution. The design of the door hangers is as important as the message that it holds.
Astounding designs coupled together with exceptional content can grab the attention of new and existing customers. Striking and abstract colors can be used to ensure that people pay attention to the message. Bright photos, contrasting hues, and even assortment of color patterns can grasp attention.
Bold headlines are very distinctive and can impress potential customers for your business. An extensive range of color combination can be used to make your door hanger stand out from the rest. These features work as a catalyst in speeding up the sales of your business.
You can also have double sided door hangers made for you. On one side you can mention the type of business that you own, and on the other side you can print a detailed map locating your showrooms or service centers. Similarly political campaigns and movements can be conveyed through door hangers to spread the message appropriately.
If you have a point to make or a message to spread around the city, then door hangers are your most reliable option. Various restaurant owners can also print their menus and phone numbers for take away orders through promotional door hangers. This makes it easier for both, the consumers and the service providers as well.
Various online print service providers are ready to help you decide on the design, help you choose the color combination and even print it for you. If you are looking to promote your business or advertise your services then look no further, one of the most prominent and consistent printing agencies for door hangers in the US is PrintPapa. Visit PrintPapa to find out more.