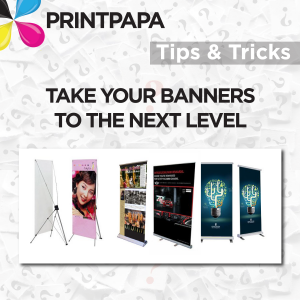 If you've ever been to a Trade Show or Convention, there's a 99% chance that you've seen vertical banners or Banner Stands.
The truth is, times are changing and people are excelling to find new and creative ways to present their product or service.
Enter the banner stand.
These are a little more versatile than your conventional horizontal hanging banners and MUCH easier to put up without the hassle of finding something to hang from.
Imagine 2 store fronts. Store 1 has a hanging banner that stays stationary and never moves. On the other hand, Store 2 has a Banner Stand that they can move around daily and even place further away from the store to gain more viewability. Store B is able to bring their banner inside  as well and use it for in-store POP (Point of Purchase).
Now there is NOTHING wrong with the conventional banners. They will always have their place, but the banner stand is an excellent way to elevate the banner. Book signings, art displays, birthdays, concerts, special events…the list goes on and on.
To print the best banner stands, you will need the service of a quality printer. PrintPapa is your one stop print solution for all your print needs. With a long list of satisfied clients, there's no need to look further, VISIT US NOW!