Envelope printing for the purpose of marketing, is very common these days. It requires special effort and imagination to create a custom envelope. For most of the media, the messages are upfront allowing scope to read the messages. But there is no such scope with envelopes where the bulk of promotional content remains hidden. Therefore, it highly matters how an envelope is designed and in that case you must make your envelope shine. It should be so created that the reader feels the urge to unravel the hidden content. This has to be kept in mind while designing an envelope. Here are some important guiding principles for you to follow in order to make your envelope design effective and eye catching.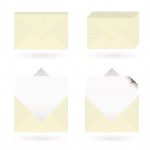 Prove a Brief Message: For this you need to be very selective about the message you want to put inside your envelope. Since the message quantity in an envelope is very concise, hence the quality of the message matters a lot. If the envelope is for marketing purpose then the message can be something like "free gift vouchers inside" or "your loan application is now available" written using some highlighted texts. Such texts give an idea to the readers as to what kind of text could be inside.
Color Envelopes: In order to spread your messages to a wide section of people, different color envelopes are a great idea. Avoid using the conventional white envelopes as they are very monotonous to see. Colored envelopes are frequently available in market and are also very trendy.
Invest in Quality: Do spend more on quality by using standard papers and getting your envelopes printed in high quality printing papers.
Add Images: You can also add different eye catching images complementing the messages that is already present in the envelope. Add only such images that directly relates to the content inside.
At Printpapa we offer a huge selection of envelope printing, varying from sizes to printing options in 1, 2 or in full color. Visit our Envelope Printing Site for more details.