Wherever you turn, you can see business cards. They are like sauce on the hamburger. As you shop at a departmental store, you can see different types of sauce in the racks. It denotes that sauce is a useful product that keeps being reinvented across the years. The same applies to business cards as well. The traditional cards are made of high-quality gloss or matt, coated or uncoated paper. But with the continuing process of reinvention, plastic cards are also in vogue. Not because of the sake of reinvention, the cards are procured as businesses prefer them owing to multiple benefits they offer.
Benefits of plastic business cards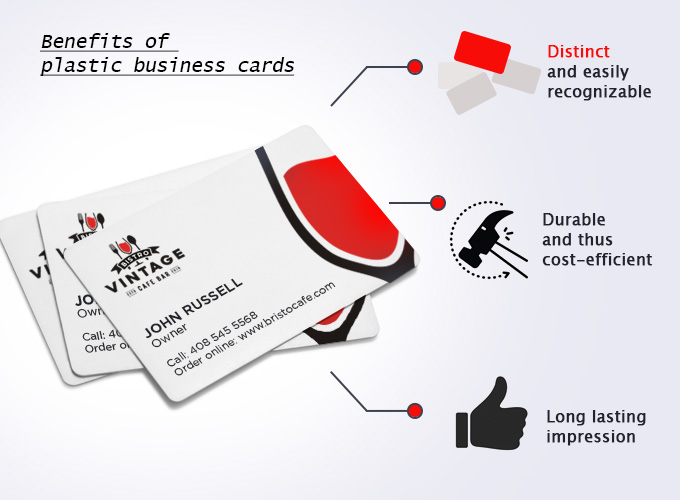 Business cards are one of the ignored yet powerful marketing weapons for businesses irrespective of sizes and niches. Printed business cards let people feel the texture and know the person behind it. Buyers feel likely to purchase from someone they feel to be trustworthy. And business cards help to gain that confidence. As you can earn the trust, you can expect the leads to shop with you or recommend your store/service to their acquaintances. The journey will be even smoother if you choose plastic business cards over the standard ones.
Distinct and easily recognizable – As someone receives a plastic card, he/she can promptly notice the difference between that card and a standard paper card. Plastic cards are very distinct and quite noticeable. Recipients can't usually throw them away. Rather they tend to hang onto them and look at the piece of plastic as they have got something valuable.
Long-lasting impression – As the people hang onto them for a longer time, they will know more about the brand and/or the person behind the brand. Also, these cards are perfect to be passed from one to another without getting worn and torn, unlike paper cards. Thus, there is more chance that the name of your business will be longer in front of other people and this helps to make a long-lasting impression.
Durable and thus cost-efficient – Custom plastic business cards are much more durable than regular ones. They don't easily tear up. They remain in a good condition in the wallet for years. As a result, customers would hold onto them longer and so you don't need to give your card to the same clients over and again. In the long run, you can save significantly by not printing business cards frequently even though the initial investment will be on the higher side.
Plastic cards are novel today. But over years, they will play better to grab customers' attention. And this is also likely that they will become the new standard business cards shortly replacing the paper cards that can't hold up over time.