Signs have always been one of the best ways to attract the audience. With various kinds of signs available like Yard signs, A-frame signs, POP signs, Window signs, Backlit signs and others, it has become a necessary promotional tool for brands and businesses.
PrintPapa, one of the best services of online sign printing provides all the above mentions designs and more at affordable rates. However, in this blog, we shall be talking about how PrintPapa'sbacklit signs benefit your business and its promotion in an effective manner.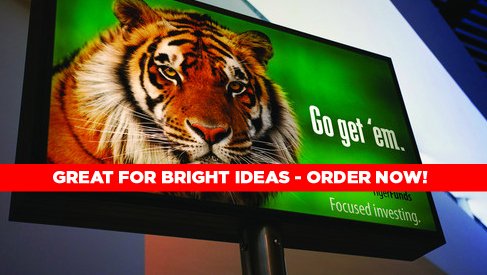 Here are 3 points which make backlit signs beneficial for your business:
Better Visibility: If your brand is placed in either an unnoticeable location or has other brands close-by, backlit signs get noticed without any effort. They shine out and draw attention from people letting them find your brand without any inconvenience or going back and forth in the same street. Custom sign printing at PrintPapa provides you with backlit signs that are weather resistant with upto a year of outdoor use. They provide sizes including 16×20", 24×36", 36×48" and more. They also provide custom sizes of upto 100×50".
Brand Identity: Opting for PrintPapa's sign printing online for your backlit signs, contribute to the visual scene by making it a clear and prominent landmark. All of us have, during sometime or the other, planned to meet someone below a building with the sign of some brand. So, in this case, your brand becomes the identifier of a particular location and vice versa. This is undoubtedly one of the strongest ways to spread awareness about your brand and create a corporate brand image.
Professionalism: 8 mil translucent polyester backlit film material used by many sign printing agencies provide the impression of a professional company, thus provoking them to choose you. Backlit sign printing due to its attractive design will certainly make people think that if a company cares so much for its branding, then it will certainly care more about the services it offers to its customers. This provides for a professional approach towards your company and makes people choose you over your competitors.
If you are looking for a high-quality sign shop in California, PrintPapa is one of the agencies providing custom sign printing. Opting for their backlit signs assures you guaranteed satisfaction along with fast turnaround and low minimums. To know more, visit www.printpapa.com and place your bulk order.