Brochures are one of the most effective ways to promote your business. Along with catalogs they go a long way in promoting your business. A few things need to be kept in mind while designing a brochure for printing: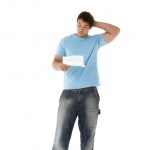 Be Creative – The genesis of a well printed brochure lies in it's designing. Be creative and original with your design. Use color prominently in your promotional brochure as it makes them look attractive. Be generous with the use of pictures and graphics
Know your Size – Optimum size is required for optimum printing. Most often people make the mistake of designing a brochure without planning about the printing part. There are 8.5×11 brochure or the letter brochure, 8.5×14 brochure or the legal brochure, 11×17 brochure or the tabloid brochure. Making error in this step may lead to poor printing of your brochure.
Use Bleeds – Using bleeds allows your brochure to have a better look. Brochures are usually printed in large sheets and cut into pieces. Bleed leaves behind a solid ink cover over the edges and  allows you to have a filling look on the edges once the brochures have been cut into individual pieces.
Use High Quality Paper – A brochure should brand your business in front of your clients. Using high quality paper thus becomes a must for a good brochure. Opt for a heavier paper as it always results in better quality printing and longer shelf life for your brochure. Try adding a varnish as they will have an appealing effect by bringing in the shine. In case you have a lot of pictures and graphics in your brochures you can avoid the varnish as they themselves will create the gloss.
Print in High Resolution – Keep in mind the resolution while designing your brochure. A high resolution printing won't yield results in case you have designed the brochure in low resolution. Experts suggest 300dpi resolution to be optimum for brochure printing. Remember you bring down the resolution if you want later but the vice versa isn't possible.
High Print Quality – Lay out and designing can fail miserably in case your printing isn't of the highest quality. You should not compromise upon the quality of your printing under any circumstance. Get in touch with a high quality printer who has expertise in printing brochures.
PrintPapa is a company that has satisfied it's customers with its printing and design services. It caters to kinds of printing needs and has expertise over printing and designing books, business cards, doorhangers, catalogs and notepads among others.