Q. So how do I know if I select " 2 Business Day" and today is Friday then do i get it Monday?
Q. I placed the order on Monday (it was Memorial Day) and I chose Next Day, why it is not ready on Tuesday?
Q. It is 3 PM on Thursday and I am choosing Next Business Day as the Turnaround for my Postcard order as I really need it tomorrow. But I did not get it on Friday. Why?
These are some sample questions plus many more like these, we have to answer every day. It is time consuming and sometimes even confusing for us (printpapa) to provide the correct answer. Why? Read on….
We offer various turnarounds for every product. For e.g. Same Day, Next Day, 2 Day, 3 Day and so on.  You have to choose that when you place the order.
Based on when (i.e. day, time)  you are placing the order various factors can throw off the actual day the order will be ready to ship, pickup or deliver. Few of these are:
Different cut off time, for e.g. Same day cut off is by 10 AM pacific ime
Weekends and holidays are not counted as business days
Maintanence Days will not be counted as a valid business day
So what did we do?
We developed a easy to understand and very intuitive Turnaround Calendar.  See screen shot below. Click on it to view it in action:
At any time when you are placing order you can view the exact day your job will be ready by looking at this Dynamic Turnaround Calculator.
Where Do I See this Calendar?
2 Ways To Find this Calendar.
1. On the Top drop down menu under Help. See screenshot below: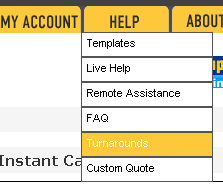 2. On every product click on the view date link next to the Turnaround Drop Down. see Below:

Pretty Simple – Start Using it Today.
By The Way – Do not forget to read the disclaimers about the exact turnaround dates. There are still factors which can delay your job.
Also I forgot to mention this
PrintPapa meets 99.99% of the deadlines by the promised due date.

PrintPapa meets 80% of the deadlines 1 day before the promised due date.

PrintPapa meets 60% of the deadlines 2 days before the promised due date.
So if you need something done and is very time critical, just make sure to let us know before or after you place the order. It might not be a bad idea to have a quick phone call chat with one of our reps to make sure about the deadline.
It has happened in the past that we have refused jobs if we cannot do it in time. If we take it then we will GET IT DONE ON TIME!!