Banners are one of the best tools when it comes to promoting a product or a service. Along with posters, flyers they form the best tools for promotion. Banners are best when they are made large making them clearly visible from a distance. Here are a few tips to make large banners: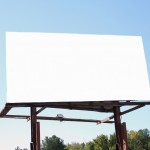 Use Large Text: Large format printing is generally viewed from a distance and thus it should be used to print the core message of the banner like the name of the event or product it is promoting. Most people will glance at your banner only for a few seconds so it is of no use over stuffing your banner with text. Try using simple curvy fonts and not fancy ones as these attract eyes but not deliver the message.
Simple Background is Must: Make sure that the background of your banner is simple and try printing the text with a high contrast color. This will ensure maximum visibility for your banner even from a distance. It is advisable to use a plain background rather than fancy ones as they distract the eyes more than they attract.
Pictures And Graphics: It is advisable to use pictures and graphics to your banner if they add value to the message that you want to deliver. Avoid using large number of small images as they will hardly be visible and not serve any promotional purpose. Rather use one or two images of large size which will take the message to the target audience. You can also add the logo of your organization if it is well recognized as people will easily identify with it.
Quality Material: Large banners should always be prepared of high quality material like Scrim Banner or Polypropelene. This ensure that your banner looks professional when put out in open. Poor quality of materials not only makes your banner look bad but also hurts your brand image in the market.
Print Full Color: Nothing attracts the human eye more than color so it is advisable for you to print your banner in full color. Do a good mix match of darker and lighter shads of color to make it look attractive.
Large banners should always find their way into a professional printing house when it comes to printing them. Hiring the services of a printing agency like PrintPapa serves as ideal for the expertise that they have in the market. They have been in the printing and designing business for long and are equipped with the latest printing technology. They have built expertise in printing business cards, letterheads, notepads and all other kinds of printing material.